Boosting employee moments in your entire business
Empower your employees throughout their entire lifecycle at your company. Transform their journey into a seamless, automated and paperless process with the Blents Employee Accelerator (BEA) tool. Completely customized to your company's needs.
Do you recognize yourself in these moments?
A variety of applications
For every different handling to manage your employees, you use a different tool, application or file.
Tight deadlines
HR management can be time consuming while you need to work in a structured and organized way.
A bulk of paperwork
Every new employee has to sign a contract, choose a laptop or company car etc. managed in different files.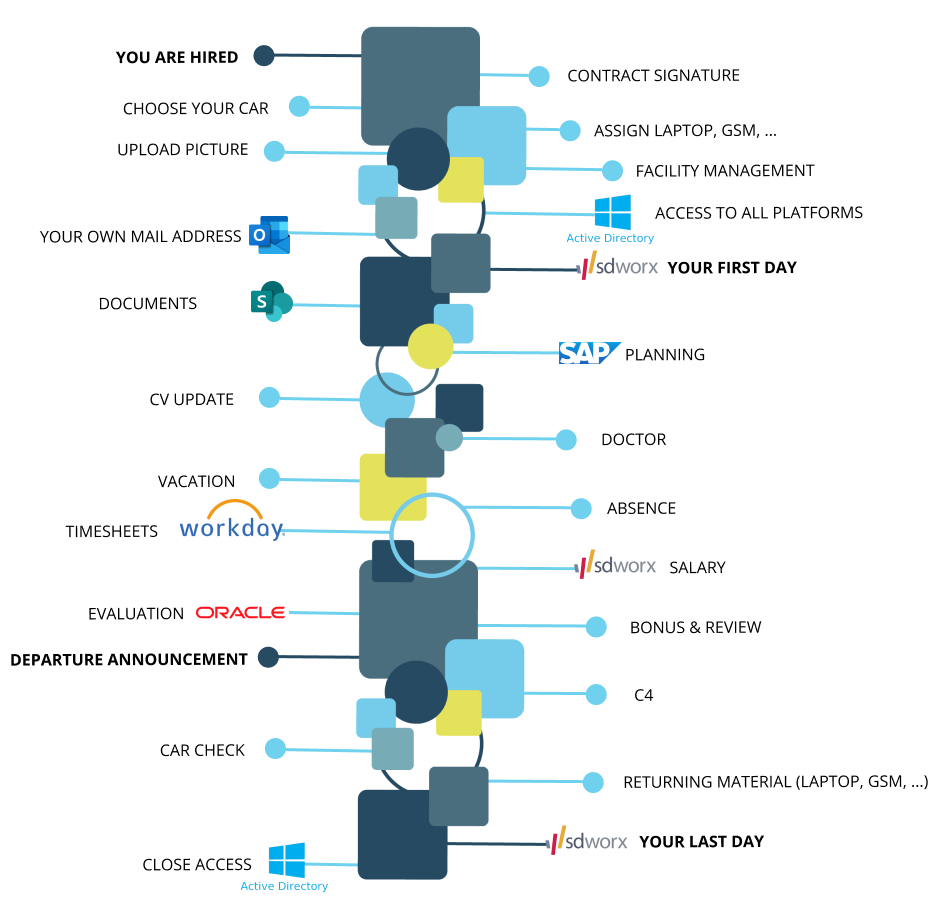 Lifecycle translated into moments
Signing a contract, leasing a car, giving access to all internal and external platforms, entering regular timesheets, uploading expenses, yearly evaluation, ... We call these "employee moments".
They regularly happen during an employee's entire lifecycle at the company. From the moment they are hired, not even started, until their last work day and even after that. Organizations use a lot of different applications to manage these employee moments. Don't bother your employees and HR team with multiple accounts and logins, but streamline your business processes and create a clean digital working environment! Make sure your HR department frees up valuable time to focus on what really matters: the well-being of your entire staff. Because as they say: happy employees lead to happy customers!
We offer a solution that integrates all your individual applications into one single tool, discover BEA!
Bring together processes and workflows across your organization
Set up your automated workflows to make HR management and operations easier and more efficient. Manage your organization in a structured and digital way. Connect your BEA application to all your internal and external platforms. BEA streamlines the most important data fields of your applications in one single tool.
BEA boosting your employee moments
Transform every employee's lifecycle at the company into a seamless, automated and paperless process. From the moment the contract is signed until the moment your access is closed
Integrate both internal and external dataflows
Minimize manual data entry and greatly reduce human error
Optimize compliance and workflows
Create a unique and reliable employee experience that is responsive and agile
Augment your employee's happiness
Direct impact on the hiring cost of a new employee
We don't change your solutions, we link them
BEA is built around
three main functionalities.
Integration
Making use of the best in class integration components allows us to integrate your cloud, on-premise and legacy systems in a professional manner.
Master data
Enabling validation, cleansing, enrichment and merging of records… allowing data to be entered only once , but to be connected everywhere.
Workflow
Given no two companies are the same, we did not bother to create one size fits all workflow. Instead, we foresee rich capabilities to create your own workflow tailored to both your needs and culture.
Your digital assistant!
Anywhere, anytime!
Download our brochure for more information (pricing, timing, etc.)
Blogs you might be interested in
Let's boost your moments together!